[Recycling Bin for Server Files]
planned
Ever Accidentally Delete Files From Your Server & Wanted to Get them back?
If So Consider Voting for this Idea! - More Information Below
[Problem]
People Accidentally Delete Files & Currently Backups are Only Allowed for 1 Hour Intervals & Not Less
[Idea]
I Would Love to Have something under the File Manager Similar to the Backup Section But Instead Have a Recycling Bin That Automatically Saves Recently Deleted Files from a Server That way One could Recover Accidentally Deleted Files
[Solution]
Create a Recycling Bin Feature in the File Manager Section Next to Backup that will Automatically Save Recently Deleted Files & that Everyday at Midnight the Recycling Bin will Automatically Delete/Clear the Files inside
Below is a Reference Image of the Idea Where it would Ideally be located.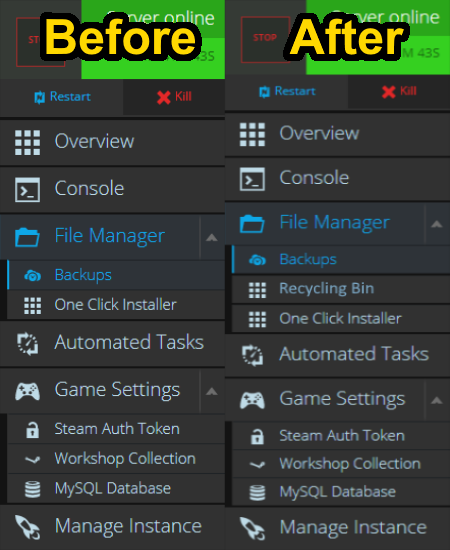 marked this post as
planned
marked this post as
under review